Thunder X (Chew Bags) Review
V2 Tobacco is the undisputed champion when it comes to chew bags.
They kicked the category off, and have more chew bag/chewing tobacco products in their catalog than any other company. Particularly, the Thunder brand. With Thunder X Chew Bags, V2 is bringing the heat with high nicotine to the chew bag category!
If you're not familiar with Chew Bags, this is how V2 describes it: "The bags that we use for Thunder Chewing bags is specially designed to be chewed to release flavor and nicotine. It is made from a paper with a special weave which is thicker and much stronger than the type of bag that snus is packed in. Thunder Chewing Bags are also fundamentally different from the other chewing tobacco products on the market by being cut tobacco in small bags while others are made from spun tobacco."
The flavor description for this product says it has a "strong mint/menthol flavor that moves your mind and brings up cold images of mother nature far north". These come with the insanely strong nicotine strength of 45mg/g. Each can has 24 portions weighing 0.55g each. They are the same size as regular snus portions or chew bags, but have a little less tobacco in them. So while the nicotine strength is 45mg/g, you'll only get about half that per portion, due to the lighter portion weight.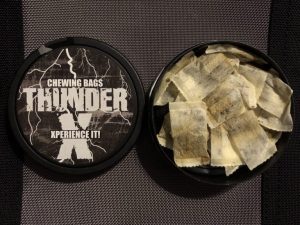 If you've had Thunder X White Dry Snus, you'll find this one to be pretty similar! The aroma is a mild, sweet aroma of peppermint. It also seems to have a little tobacco in there, as well. The portions are dry to the touch, and I do suggest fluffing the tobacco a bit, as it seems to be focused and centered to one side of the chew bag. Being a mint product, once I slide a portion under my lip I notice a cooling presence, as well.
The flavor is a sweet taste of peppermint. It's not too in your face, and it comes through in a gentle, but fresh way. The longer I have these in the more I notice a light tobacco character in the background, as well. The nicotine kick on this stuff is strong, I mean, I feel it within minutes of putting one in. And it takes me on quite the ride and kicks me in just the right way. If you want a high nic product, look no further! Being a white dry product, I notice the flavor to last quite a while – usually up to 1.5 hours!
Thunder X Chew Bags is a good, high nicotine mint product. If you like the flavor of peppermint and want something with a strong kick, this is something that you're going to enjoy!
But is it Chew Bags or Chewbags?
Credit The Northern Blog